Sušená jablka v čokoládě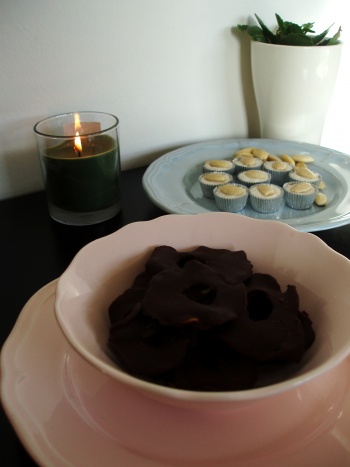 tabulka kvalitní hořké čokolády
(používám 70% alnatura)
větší hrst dobře usušených křížal
(mohou být kupované ze zdravé výživy nebo domácí)
Snad to nejsnazší cukroví, co může být. A přitom tak náramně dobré. Je hotové během pár minut, a tak i na Vánoce můžete potěšit i překvapit takřka bez práce a námahy.
Připravíme si silikonovou podložku, pečící plech nebo plech či prkýnko vyložené pečícím papírem. Dobře usušené křížaly si dáme vychladit nejlépe do mrazáku nebo do lednice. Potom si rozehřejeme hořkou čokoládu, odstavím z plotny (vodní lázně) a metličkou mícháme aby čokoláda chladla, ale přitom zůstávala tekutá. Když už je čokoláda trochu chladnější a tužší, začneme do ní namáčet vychlazené křížaly, které ihned pokládáme na připravenou podložku nebo plech. V lednici potom čokoládu necháme zatuhnout. Sladujte v chladu a užívejte si to příjemné křupnutí.
Pro ještě zajímavější vzhled můžete nezaschlé namočené křížaly posypat kokosem, třtinovým cukrem nebo ořechy na ozdobu.



Komentáře
Přidat nový komentář:
AzaglShark
|
24. 4. 2018, 8:46
AhnavArrar
|
24. 4. 2018, 5:40
ApmwyShark
|
24. 4. 2018, 3:21
AhlrkArrar
|
24. 4. 2018, 0:51
AfymiShark
|
23. 4. 2018, 22:50
AhzlkShark
|
23. 4. 2018, 21:27
AggrgShark
|
23. 4. 2018, 20:27
AshrhShark
|
23. 4. 2018, 8:39
AkenxArrar
|
23. 4. 2018, 8:01
AupckShark
|
23. 4. 2018, 6:33
AuzfsShark
|
23. 4. 2018, 6:05
ApthlArrar
|
23. 4. 2018, 5:51
AesmtShark
|
23. 4. 2018, 5:42
AvgmeArrar
|
23. 4. 2018, 3:49
AyqpaShark
|
23. 4. 2018, 3:03
AptzkShark
|
23. 4. 2018, 2:15
AucacShark
|
23. 4. 2018, 0:05
AcreuArrar
|
22. 4. 2018, 23:49
AntqaShark
|
22. 4. 2018, 22:36
AiakfArrar
|
22. 4. 2018, 21:56
AmpsyShark
|
22. 4. 2018, 21:34
AkxjbArrar
|
22. 4. 2018, 19:47
AspkiShark
|
22. 4. 2018, 19:13
ApybeShark
|
22. 4. 2018, 17:57
AhiedShark
|
22. 4. 2018, 16:54
AawykShark
|
22. 4. 2018, 15:14
AlxvnArrar
|
22. 4. 2018, 14:57
AnppmArrar
|
22. 4. 2018, 4:51
AeulkShark
|
22. 4. 2018, 4:46
AekahShark
|
19. 4. 2018, 10:40
AzbzkShark
|
17. 4. 2018, 22:56
kamagra oral jelly for sale in usa
|
1. 4. 2018, 1:08
AUQenlFap
|
9. 3. 2018, 5:06
KUQenlmot
|
16. 2. 2018, 13:16
AUQenlFap
|
16. 2. 2018, 12:05
KuaslGuh
|
12. 2. 2018, 18:07
Essaeeybluri
|
3. 2. 2018, 4:27