Pšeničný sirup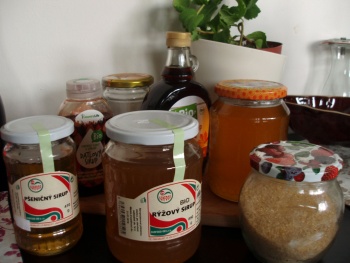 Pšeničný sirup má zlatavou průhlednou barvu, lépe se dávkuje než med a rýžový sirup a má vysokou sladivost. Je vynikající do všech lepkových buchet, lineckých koláčů a jiných sladkostí. Krásně pojí a tak pomáhá při pečení například Vánočního cukroví bez vajec.
Je výhodný především svojí cenou, proto po něm sáhnu vždy, když peču nějakou nenáročnou běžnou buchtu, kterou potřebuji prostě jen osladit, ale přitom nechci sahat po třtinovém cukru. Práce je s ním opravdu snadná, jen je vždy důležité odečíst trochu tekutin z receptu, pokud jím nahrazujete klasický cukr. Nejlépe tekutiny postupně nakonec přilévat a průběžně zpracovávat těsto a kontrolovat hustotu. Další jeho výhodou je, že nezanechává žádnou chuť. Takže například kdybychom pekli Honzovy buchty a přidali tam datlový sirup, už to bude cítit, což je zrovna v tomto případě nežádoucí.
A co je na něm zajímavé? Že je bezlepkový. Volala jsem kvůli tomu i do SUNFOODu. Bezlepkářům ho sice do sladkostí nedávám, když peču pro svoji domácnost něco bezlepkové, klidně po něm sáhnu. Cenově se to opravdu vyplatí :)
Kdy rozhodně nepoužívat pšeničný sirup?
Nelze jej zašlehávat do sněhu, ale jinak s ním žádné další špatné zkušenosti nemám. Při vaření mi problémy nedělá, s rostlinným mlékem s ním kondenzované mléko vyrobit lze a na pečení je také vynikající. Pouze bych ho nepoužívala do limonád a koktejlů, protože na to je vhodný spíše agávový sirup. Ten se lépe rozpouští. Dále bych s ním nezavařovala, ale to jen pro to, že mám velmi dobré zkušenosti se zavařováním s agávovým sirupem.



Komentáře
Přidat nový komentář:
AUQenlFap
|
9. 3. 2018, 5:06
KUQenlmot
|
4. 3. 2018, 14:00
KUQenlmot
|
16. 2. 2018, 13:16
AUQenlFap
|
16. 2. 2018, 12:05
Essaeeybluri
|
15. 2. 2018, 5:56
KuaslGuh
|
12. 2. 2018, 18:07