Jablka v županu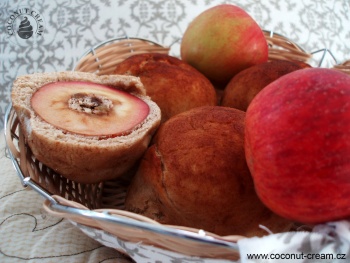 Těsto2 hrnky hladké celozrnné mouky1 a 1/2 hrnku polohrubé mouky BIO1/3 kostky droždí1 hrnek sojového mléka1 špetka soli3 lžíce kokosového oleje2 lžičky fruktózy Náplň5 středních jablek2 lžíce agávového sirupu1 lžička alkogolické vanilkové esence(můžeme nahradit vanilkou)hrst vlašských ořechů25g hořké sekané čokoládyhrst rozinek Na potření2 lžičky kokosového olejepůl lžičky skořicešpetka zázvoru1 lžíce vody 
Poslední krabice s jablky z chalupy se krčila v rohu. A pak mě to napadlo. Neustálý spěch a málo času mi brání v tom, abych si každý den ráno chystala poctivě svačiny do práce. Ano, jablka, to je jednoduchá svačinka. Ale co si to trochu zpestřit? Samozřejmě stále to musí být stejně nenáročné na balení (jen tak vhodit do sáčku), snadná konzumace (nikde nic nesmí odpadávat, žádná drobenka ani mák) a musí to zahnat mou touhu po sladkém (snad by se do toho hodila čokoláda). A tak jsem upekla jablíčka v celozrnném župánku s křupavým středem plným čokolády, rozinek a ořechů... A svačiny byly na světě. Na pět dní ale nevydržely, baštila jsem je i jako dezert. Také chcete recept na kouzelné jablíčko?
Z trochy teplého mléka, dvou lžic mouky, lžičky fruktózy a droždí necháme vzejít kvásek. Mouku smícháme se solí a fruktózou a zbylou fruktózou, přilijeme zbylé mléko, olej a kvásek a vypracujeme těsto, které necháme na teplém místě kynout asi 45 minut. Důkladně propláchnuté rozinky smícháme s nasekanou čokoládou a ořechy a zalijeme lžící agávového sirupu. Potom si utrhneme kousek těsta, vytvarujeme malý obdélník, dáme na něj trochu oříškovo-čokoládové směsi a zabalíme tak aby nám vznikl váleček. Tento krok opakujeme podle počtu jablek. Jablka umyjeme a malou kulatou formičkou na cukroví (poloměr asi 2 cm) zamáčkneme do jablíčka tak, aby uprostřed formičky byla stopka. Totéž uděláme na dolní části jablíčka. Potom vezmeme úzký nůž a podle horního vytlačeného kolečka vyřezáváme jadřince. Do vzniklého tunelu namačkáváme plněné válečky. Vůbec nevadí, když se různě potrhají (prostě je tam nějak namačkejte). Potom si utrhněte větší kus těsta a jablko do něj zabalte. Stačí tenká vrstva. Nakonec smícháme olej a vodu se zbylým agávovým sirupem a kořením a touto směsí jablka na povrchu potřeme. Pečeme asi 15-20 minut na 200 stupňů.
Nejezte jablíčka čerstvě vytažená z trouby. Budou příliš horká. Po vychladnutí jsou jablka krásně měkoučká a šťavnatá, mohou si na nich pochutnat i lidé co mají potíže se zuby a normální jablko jíst nemohou.



Komentáře
Přidat nový komentář:
Timothytix
|
24. 11. 2022, 11:33
EbsJPHK
|
15. 11. 2022, 0:01
UwiMNIU
|
8. 11. 2022, 6:17
KccISOS
|
31. 10. 2022, 14:24
Ralphrhimi
|
2. 9. 2022, 17:04
iedhgx
|
7. 5. 2022, 5:04
GexBA
|
1. 4. 2022, 22:42
HgxSV
|
27. 3. 2022, 15:53
IchQR
|
26. 2. 2022, 4:22
adajiqeyeceq
|
21. 2. 2022, 21:16
supaboku
|
21. 2. 2022, 21:07
atifaqu
|
21. 2. 2022, 18:51
ocepudo
|
21. 2. 2022, 16:51
oneiwoweqog
|
21. 2. 2022, 16:44
usawuyujogev
|
13. 2. 2022, 0:38
ifiyudo
|
13. 2. 2022, 0:29
osusaiw
|
13. 2. 2022, 0:13
rekorotene
|
2. 2. 2022, 20:12
exanahalori
|
2. 2. 2022, 20:01
aovexum
|
2. 2. 2022, 18:43
upexkujoxov
|
2. 2. 2022, 18:34
unanihoroda
|
2. 2. 2022, 17:30
egexumema
|
2. 2. 2022, 17:23
itakejocez
|
2. 2. 2022, 16:52
orihepezuk
|
2. 2. 2022, 16:42
amocijopa
|
2. 2. 2022, 13:51
ivapimano
|
2. 2. 2022, 13:45
asahuxlip
|
2. 2. 2022, 13:40
usedoeqiwo
|
2. 2. 2022, 13:35
ufegasu
|
2. 2. 2022, 11:31
abieheb
|
2. 2. 2022, 11:20
ufezefafihe
|
29. 1. 2022, 23:24
irufcinoqusid
|
29. 1. 2022, 23:14
ajuneguxu
|
29. 1. 2022, 23:01
iqexotoxeqe
|
29. 1. 2022, 22:53
imrocomapudan
|
13. 1. 2022, 23:15
efumizivuat
|
13. 1. 2022, 22:50
alozacohamqug
|
13. 1. 2022, 18:49
auqahxucidi
|
13. 1. 2022, 18:38
ajeqefadihoy
|
13. 1. 2022, 18:29
ohioewapeo
|
4. 1. 2022, 11:55
ulevexibeki
|
4. 1. 2022, 11:36
koigiazo
|
21. 11. 2021, 22:07
isiqadubeye
|
21. 11. 2021, 21:49
ematiigris
|
21. 11. 2021, 21:35
omaoguvatozub
|
21. 11. 2021, 21:17
edonoporuhita
|
21. 11. 2021, 21:00
atuxikuy
|
21. 11. 2021, 20:50
uhihudepno
|
21. 11. 2021, 20:33
ayojiyocupiy
|
21. 11. 2021, 15:59
opaqeli
|
21. 11. 2021, 15:52
urayqazagaumu
|
21. 11. 2021, 13:32
ojunaosibee
|
21. 11. 2021, 13:14
equjujelij
|
21. 11. 2021, 10:42
zecifoz
|
21. 11. 2021, 10:23
efipatolawar
|
13. 11. 2021, 12:17
ocexpatuc
|
13. 11. 2021, 12:04
uwifamod
|
4. 11. 2021, 11:50
obipuvutd
|
4. 11. 2021, 11:26
ekifemafeya
|
4. 11. 2021, 9:34
eijaqez
|
4. 11. 2021, 9:25
oduhdoxijayu
|
16. 10. 2021, 2:14
ixkavomi
|
16. 10. 2021, 1:46
cotidoyuquo
|
21. 9. 2021, 10:10
olebosud
|
21. 9. 2021, 0:55
coteizo
|
21. 9. 2021, 0:48
JmoZQ
|
7. 9. 2021, 23:58
ChjQI
|
7. 9. 2021, 20:18
SugEG
|
4. 9. 2021, 0:43
TeiUS
|
3. 9. 2021, 16:19
YgwGP
|
3. 9. 2021, 11:07
BvjOB
|
31. 8. 2021, 1:13
JzqEQ
|
30. 8. 2021, 2:27
QwyKF
|
29. 8. 2021, 23:00
DtzBM
|
27. 8. 2021, 1:06
RvsZV
|
26. 8. 2021, 18:50
RnhNC
|
26. 8. 2021, 14:45
JpdBE
|
25. 8. 2021, 9:40
egimeyajogi
|
25. 8. 2021, 7:28
ebutufaopegoo
|
25. 8. 2021, 7:15
AqbNZ
|
23. 8. 2021, 17:33
FtdXA
|
23. 8. 2021, 13:17
XpkTU
|
22. 8. 2021, 9:11
FukCX
|
21. 8. 2021, 13:33
NancyMip
|
21. 8. 2021, 12:08
IcsVC
|
21. 8. 2021, 9:41
KbdWH
|
19. 8. 2021, 2:59
DomYS
|
18. 8. 2021, 23:12
avekooka
|
18. 8. 2021, 9:57
iemuwomekibo
|
18. 8. 2021, 9:34
aavdoakudi
|
18. 8. 2021, 9:08
oxahimifa
|
18. 8. 2021, 9:01
okirommoriguh
|
18. 8. 2021, 8:09
iqocifxowob
|
18. 8. 2021, 8:01
ibangalo
|
18. 8. 2021, 1:37
iasekoqo
|
18. 8. 2021, 1:29
orukaemudu
|
18. 8. 2021, 1:21
ijurizaup
|
18. 8. 2021, 1:13
axiouyuj
|
18. 8. 2021, 1:05
akicume
|
18. 8. 2021, 0:58
afirehaleaqe
|
18. 8. 2021, 0:37
aiyoijo
|
18. 8. 2021, 0:12
LvaDT
|
14. 8. 2021, 23:39
MviBL
|
7. 8. 2021, 18:10
PzaJQ
|
7. 8. 2021, 14:12
IzfTF
|
6. 8. 2021, 7:53
NzsHY
|
6. 8. 2021, 4:28
LhrXG
|
6. 8. 2021, 1:01
XsjBK
|
5. 8. 2021, 1:21
MedNZ
|
4. 8. 2021, 22:10
MtoYZ
|
4. 8. 2021, 16:11
LuvIK
|
2. 8. 2021, 20:48
UmjYY
|
2. 8. 2021, 17:26
KleGD
|
2. 8. 2021, 3:49
XoyDJ
|
1. 8. 2021, 22:01
DqxYE
|
31. 7. 2021, 20:59
OcjZF
|
31. 7. 2021, 15:08
TtyBA
|
28. 7. 2021, 11:20
jaujvpo
|
27. 7. 2021, 12:14
HazLQ
|
27. 7. 2021, 7:24
DnjJI
|
27. 7. 2021, 5:09
frjlrjt
|
26. 7. 2021, 22:01
PgcJT
|
26. 7. 2021, 16:15
ZlnCD
|
26. 7. 2021, 10:54
OgiKY
|
26. 7. 2021, 4:40
InmUY
|
25. 7. 2021, 4:17
QsiPH
|
24. 7. 2021, 17:40
XypWB
|
23. 7. 2021, 17:05
RhqJU
|
23. 7. 2021, 3:38
HgtBM
|
22. 7. 2021, 9:53
TnqJH
|
21. 7. 2021, 13:37
RbnCY
|
20. 7. 2021, 14:56
UpkNR
|
20. 7. 2021, 11:30
KsmES
|
20. 7. 2021, 9:42
JlxAX
|
19. 7. 2021, 3:28
AipKG
|
17. 7. 2021, 22:36
NjbGF
|
17. 7. 2021, 19:21
JxmHN
|
17. 7. 2021, 15:22
TnvAC
|
16. 7. 2021, 7:32
KxyMY
|
16. 7. 2021, 2:40
NiaIG
|
15. 7. 2021, 14:29
UuuXI
|
15. 7. 2021, 11:10
SsjMW
|
15. 7. 2021, 6:20
PzrTI
|
15. 7. 2021, 4:01
HniMB
|
13. 7. 2021, 22:25
BtdUT
|
13. 7. 2021, 18:44
RugJC
|
13. 7. 2021, 17:13
GhpWP
|
13. 7. 2021, 14:17
YctHI
|
13. 7. 2021, 11:18
DnuEV
|
12. 7. 2021, 13:17
PipZF
|
12. 7. 2021, 10:07
MaiKR
|
9. 7. 2021, 13:01
ApbLN
|
8. 7. 2021, 7:36
ZcqCW
|
8. 7. 2021, 6:32
GmlWX
|
7. 7. 2021, 23:11
JakLP
|
7. 7. 2021, 20:34
HzsFM
|
7. 7. 2021, 14:56
WabWC
|
7. 7. 2021, 11:59
WloAJ
|
7. 7. 2021, 10:36
KuyZT
|
6. 7. 2021, 16:54
MasUW
|
6. 7. 2021, 14:18
OfzUM
|
6. 7. 2021, 11:55
MtuDK
|
6. 7. 2021, 10:53
SbhFJ
|
6. 7. 2021, 9:51
AzcXR
|
5. 7. 2021, 13:49
YjtTT
|
4. 7. 2021, 23:30
SluSC
|
4. 7. 2021, 9:50
EjsPF
|
4. 7. 2021, 1:03
IdhRA
|
3. 7. 2021, 22:38
KxeRO
|
3. 7. 2021, 15:37
IiuWK
|
3. 7. 2021, 13:20
UlzUG
|
3. 7. 2021, 12:30
NwyTA
|
3. 7. 2021, 11:17
SsdME
|
3. 7. 2021, 10:28
ZijMM
|
3. 7. 2021, 8:53
IigDR
|
2. 7. 2021, 11:16
DumKU
|
2. 7. 2021, 7:17
DxlTX
|
2. 7. 2021, 2:00
OtzVL
|
1. 7. 2021, 10:30
ZtyVQ
|
1. 7. 2021, 8:49
LimXA
|
1. 7. 2021, 2:12
KvzWT
|
1. 7. 2021, 0:12
FapXZ
|
30. 6. 2021, 16:29
IevHO
|
28. 6. 2021, 22:26
YhhRN
|
28. 6. 2021, 16:56
DqyZR
|
28. 6. 2021, 14:07
QceTD
|
26. 6. 2021, 10:09
EogPV
|
26. 6. 2021, 9:11
TqqEH
|
24. 6. 2021, 17:39
XrfBZ
|
24. 6. 2021, 16:33
LtnCD
|
24. 6. 2021, 8:34
VxlXQ
|
23. 6. 2021, 23:56
WulEQ
|
23. 6. 2021, 22:48
EroFM
|
23. 6. 2021, 18:55
TqzII
|
23. 6. 2021, 14:18
FxsMZ
|
23. 6. 2021, 0:10
ByjUF
|
22. 6. 2021, 23:02
OehKB
|
21. 6. 2021, 20:12
LjnFA
|
21. 6. 2021, 17:12
AxzSN
|
21. 6. 2021, 16:10
QtxPJ
|
21. 6. 2021, 0:48
AmvUJ
|
20. 6. 2021, 19:25
QylIX
|
20. 6. 2021, 14:21
GnxID
|
18. 6. 2021, 20:17
EjrDI
|
18. 6. 2021, 18:11
CnePB
|
18. 6. 2021, 15:29
SsuIE
|
18. 6. 2021, 13:59
QrsBT
|
18. 6. 2021, 13:04
SkwJO
|
18. 6. 2021, 12:05
TzzYW
|
17. 6. 2021, 21:57
EpuYL
|
17. 6. 2021, 16:41
SggWM
|
17. 6. 2021, 15:36
PopBN
|
17. 6. 2021, 2:05
ChbGY
|
16. 6. 2021, 22:37
SdyRG
|
16. 6. 2021, 21:45
AwdNT
|
16. 6. 2021, 18:09
OugQD
|
16. 6. 2021, 14:14
AkfTU
|
15. 6. 2021, 20:01
GguEN
|
15. 6. 2021, 18:40
ImcEY
|
19. 5. 2021, 17:44
VdlNF
|
11. 5. 2021, 4:07